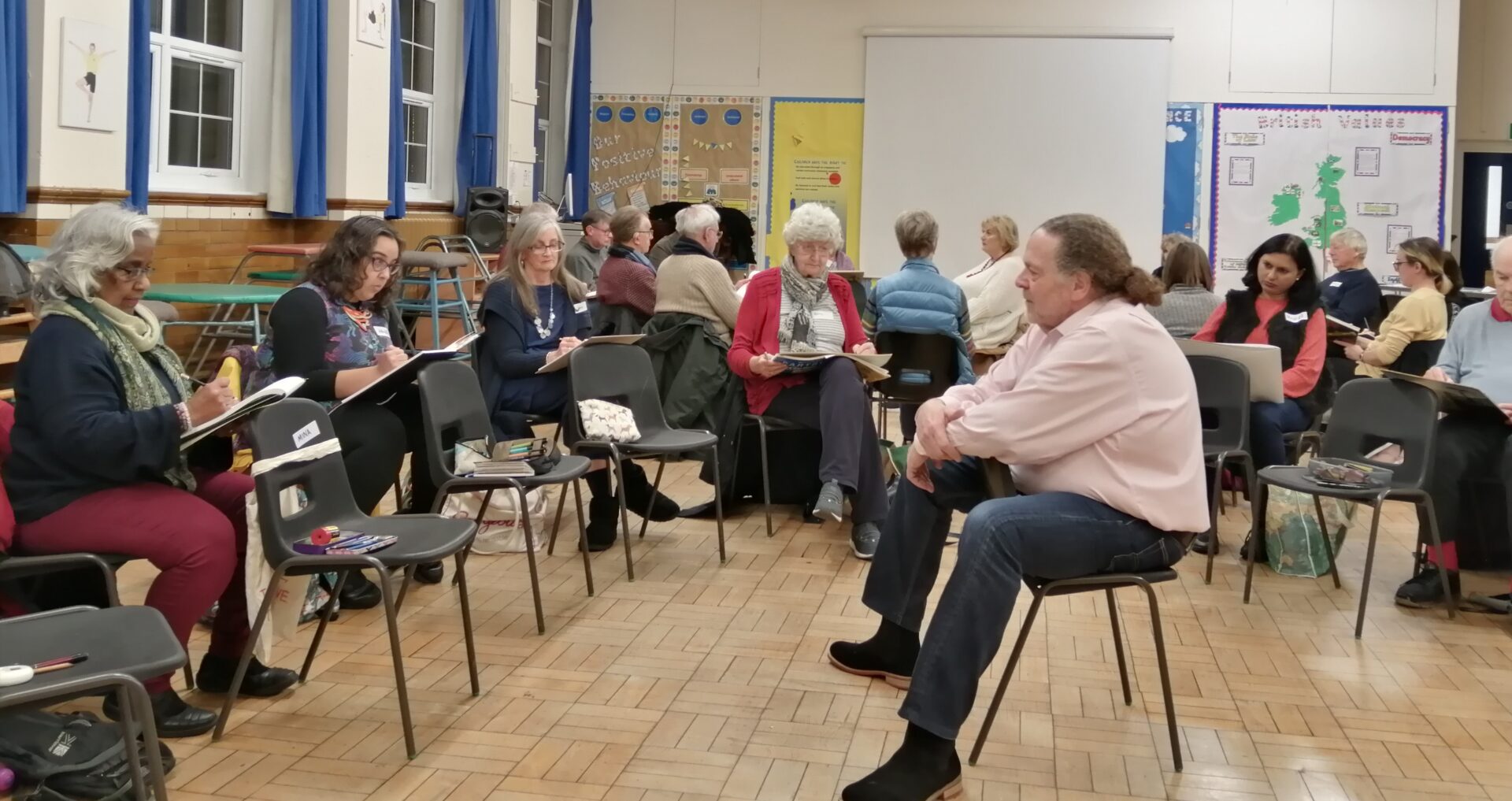 Our Mission
Enfield Art Circle offers ready access for any adult who is interested in art. We encourage students, retirees, amateur enthusiasts – in fact anyone with creative inclinations – to check us out.  
We offer an annual membership subscription. Non-members are welcome to most events.
Art classes and workshops
A number of art classes are run by EAC's teacher-members at various locations around the borough. From printing to painting there are many fun, informative and lively sessions throughout the year.
Monthly meetings and events
We aim to encourage arts in the community with workshops, demonstrations and other events run by our teacher-members and local professional artists. Meetings take place on the second Thursday of every month.
Annual exhibition
Our annual exhibition, now in its 91st year, is a highlight for EAC members who have accepted the challenge of finishing pieces to show and sell. This well-established local event is appreciated by the local community, families and friends.
History of the Enfield Art Circle
Sylvia Brown explores the history of the Enfield Art Circle.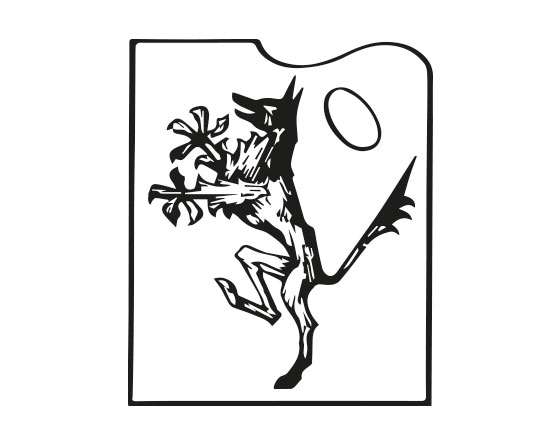 Original EAC logo designed 1932
First Steps
In 1932 Mrs Thirza Jonckheere-Cox, a talented miniaturist and resourceful lady of quiet determination, formed the Enfield Art Circle with the help of respected local artists Mr W Fletcher-Thomas and Mr H Hayley. Together they instituted a comprehensive programme of monthly meetings for all Enfieldians interested in the visual arts with discussions, lectures, practical sessions and demonstrations. They also managed to source and secure exhibition spaces suitable for showing members' work.
The Annual Exhibition
The very first exhibition was held in a top-floor room of Pearson's store in Enfield Town; this was by courtesy of Mr Stanley Pearson who later became an EAC vice-president.
Annual exhibitions were held uninterrupted throughout the war years of 1939-45. In 1945 the exhibition was housed in the Enfield Grammar School. Other venues used were Edmonton Town Hall, Broomfield House and Forty Hall.
As Forty Hall did not then contain a purpose-built gallery, considerable improvisation was duly required with countless hooks and bolts and screws, miles of string and temporary (often accidentally collapsible) hanging screens. Another exhibition was held in the foyer of the ABC cinema – formerly the Savoy, now a Tesco's.
In 1969 the Forty Hall Gallery was formally established and the Art Circle exhibited there until its closure for refurbishment in 2009. Since 2010 the EAC has held its Exhibition at Capel Manor, Bullsmoor Lane, Enfield.
Magnificent Meeting Venues
The first president was Mr Dudley Leggat, a wealthy art dealer who graciously allowed the EAC to hold its monthly meetings in the historic and very beautiful wing of his house, now known as the Tudor Room in Little Park, situated next to the Enfield Registry Office in Gentleman's Row. This grand Elizabethan room with its high and heavily embossed ceiling, rich oak panelling and floor-to-ceiling fireplace was part of the original Enfield Palace which stood on the site now occupied by Pearson's department store.The same privilege was extended by the next owner, Godfrey Groves, who took such a kindly interest in the EAC that he was made vice-president. Guests and visiting lecturers continued to be amazed by this wonderful room until the death of Mr Groves in 1979. Godfrey was a close friend of Muriel Archer, EAC vice president until her death two months before her 100th birthday in 2011. In 1979 a new meeting venue was found at St Andrew's Parish Centre where the monthly Thursday Talks were held. 
The mid-20th century
Mr Dudley Leggat, the first president, passed away in 1945. On the committee at that time was Basil Hitchcock RO, a very fine painter who became the next president. He occupied this position with great dignity until his untimely death in a 1954 boating accident. Basil's successor was another gifted artist, Archibald Sanderson, a brilliant teacher, lecturer and eminent art historian. As a regular exhibitor at the Royal Academy he was suitably honoured when of one of his watercolours was purchased for inclusion in its permanent collection. Mr Sanderson served the Art Circle well until his death in 1972; a studio room at Millfield House is named after him. EAC chairman and founder, Mrs Jonckheere-Cox, died in 1958; in tribute members subscribed to a memorial seat and decorative tree placed near her home on The Green in Gentleman's Row. She was succeeded by Mr L Lawrence until 1965 when Frederick Johnston, SGA FRSA, artist, teacher, lecturer and author was elected as chairman. On the death of A Sanderson in 1972 Frederick Johnston was invited to be president and served the Art Circle in the dual roles. After Frederick Johnson, Mr Len Butcher became chairman; on his promotion to president, the chairmanship passed to Jeffrey Bone. In 2004 Alan Weitzel succeeded Mr Bone. Alan resigned in 2011 through ill health, becoming joint vice-president with Del Mason. Peter Brown was then elected president and chairman. Sylvia Brown took over from Peter in 2014 and served as chairman until 2017. 
Council connections
In 1950 the Edmonton Arts Council was formed with seven local organisations as affiliated members. The Enfield Art Circle was one of these and its chairman was one of the original sub-committee for art. The Arts Council was one of the first of its kind. It later became the Enfield Arts Network which produced a monthly magazine for local arts-related events and meetings and stood for the next 40 years before the modest council funding was discontinued.
Recognition
Over the many years Enfield Art Circle members have had work accepted for prestigious public exhibitions such as the Royal Academy, the Paris Salon, with several award winners, the Royal Institute of Oil Painters, the Royal Institute of Painters in Watercolour; the Royal Society of British Artists, the Pastel Society, the Society of Graphic Artists, the National Society; the Society of Women Artists and the New English Art Club.
Archive moments
Browsing through the records we find that:sIn 1940 Mr Len Butcher had proposed that the hanging fee should be increased to 1/6d – or 7½p in new money.
In 1942 a special EAC exhibition was held to raise funds for air-raid victims.
One entry lists a visit by a senior officer from Scotland Yard! He was there to ensure that a large banner, giving details of an exhibition and planned to span the main thoroughfare, was in no danger of fouling the overhead trolley-bus cables. The banner was eventually successfully hoisted, but the hilarious antics and activities involved resembled Charlie Chaplin and the Keystone Cops.
For many years the Art Circle exhibited in a large marquee at the annual Enfield Town Show, a typical country show sponsored by Enfield Council and held in the town park. The Art Circle was well represented with a fine display of paintings, while some of the members gladly demonstrated their slicker skills, especially Leonard Butcher, an arts teacher at Enfield Grammar, with his potter's wheel always surrounded by a large appreciative crowd.
The Art Circle has conducted multiple social activities such as summer and autumn coach outings and convivial Christmas parties; our 50th anniversary dinner was held at the Forty Hall banqueting Suite on 30 April 1982, with 150 guests attending.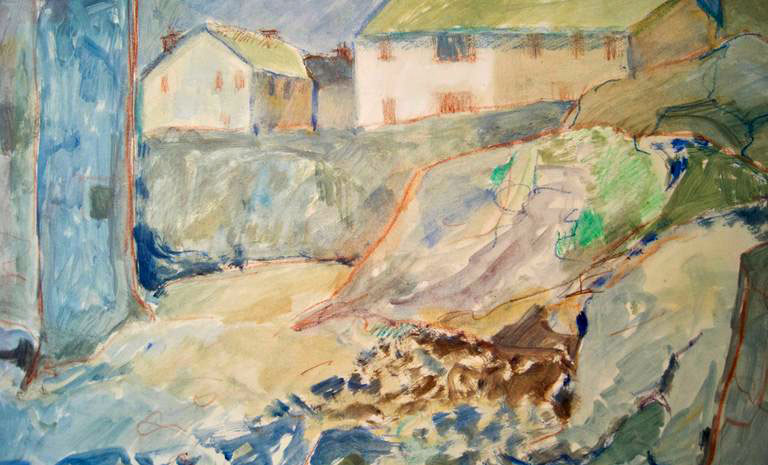 A painting of St Ives by Muriel Archer
Peter and Sylvia Brown
It seems one can't avoid that finger of FATE. When Peter Brown was a promising pupil at Chase Side School, the then EAC President, Basil Hitchcock, was his art teacher. He encouraged Peter to enter a London schools' painting competition, in which he won first prize. Later, again under Basil's guidance, Peter won a scholarship to Hornsey School of Art. Unfortunately, his parents were not in favour of him accepting this place and he abandoned painting for several years. After National Service and marriage commitments, a random event in 1958 revived his interest in the arts. His wife Sylvia was working at Reeves Artists Paints in Lincoln Road and, knowing that Peter used to paint, brought home a case of oil painting equipment costing 7s 6d or 37½p. A few paintings later Peter visited a neighbour named Muriel Archer, a renowned local artist and art teacher, in River View to show her his work. Muriel Archer was our late vice-president and tutor to many Art Circle members.
Muriel recalled her friend, Basil Hitchcock, telling her about his protégé Peter Brown all those years before so was happy to continue with his art tuition. She encouraged him to join her Enfield Adult Education life class as well as the Enfield Art Circle. She invited Peter to co-tutor on Theobalds College courses and eventually to become sole art tutor at Enfield College when she moved to St Ives in 1981. Many years later it was a special moment for Peter when he was invited to be president of the Enfield Art Circle – to see his name alongside that of Basil Hitchcock on the Art Circle's presidents' plaque.
Recent history
The EAC 80th dinner took place at Bush Hill Golf Club in July 2012. Twice we have had outings to Blackwater Estuary, sailing on a Thames red-sailed barge. A coach trip to the Barnes Wetlands Centre proved very enjoyable; most of us were so busy watching the waterfowl that the day sped past, but a few brave souls produced their sketchbooks to make illustrative records of a lovely day out. More recently the Enfield Art Circle celebrated its 85th anniversary in October 2017 when members attended a dinner at Enfield golf course restaurant, and in 2022 we marked our 90th anniversary at the Enfield golf club.