Love Art and live in Enfield? Become a member of EAC and be part of a lively art community that comes together for regular painting and drawing classes cordially presented by professional artists.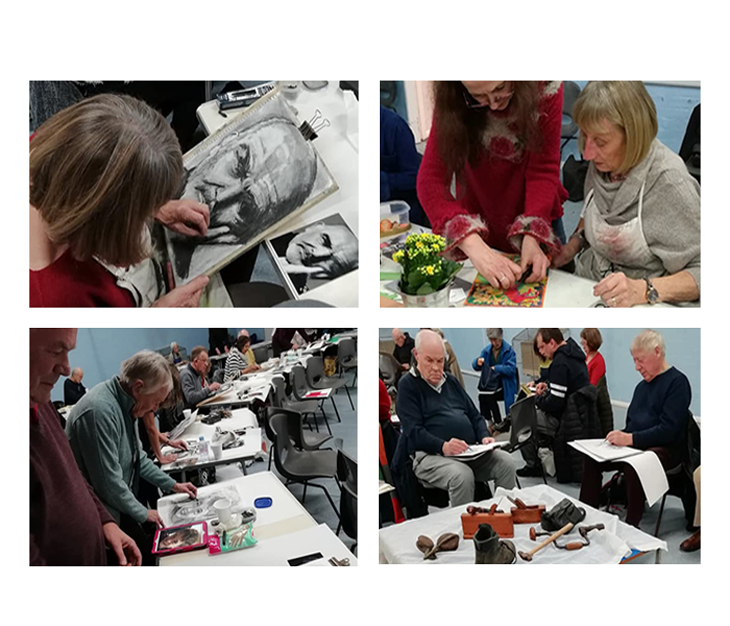 After retirement I chose to take up painting. My first step was to find a class, a bit later I discovered and joined the Enfield Art Circle. I enjoyed their talks and practical evenings but realised I had a lot to learn before I could enter their exhibitions. So, it was something to work for, and a useful goal. After about two years I applied to become an exhibiting member. My paintings and sketchbook were looked at by a small panel to assess whether I had reached an acceptable standard.  I was very chuffed when told I was accepted. I then started submitting my paintings to the exhibitions and was so happy when I achieved a sale!
Reasons to join
Free entry to regular meetings


Participation in all events arranged by EAC

Access to professional support and advice

The opportunity to participate in the annual Summer Exhibition
Membership fees
£30 for individual members


£40 for two members from the same household

Free membership for art students in the final year of an A-level course or taking an art course in higher education 
Membership duration
1st January to 31st December

Join a growing art community in Enfield
Develop confidence in your art skills

Meet fellow local art enthusiasts

Choose from a range of practical classes

Enjoy demonstrations and workshops with professional artists
Be a part of our Annual Exhibition
Show your work to an interested public for a small fee


Sell and promote your artwork
Ready to become a member?
Click the button below to submit your details to join. Make sure you select 'Join as a member' as your reason for contact.
Make a donation!
EAC has been running since 1932 and in 2022 celebrated its 90th anniversary. Our organisation provides demonstrations, classes, workshops and talks, plus an annual exhibition of members' work. As a non-profit body resources are limited and we appreciate any donation that will help maintain the many activities currently on offer. 
How will your donation help
Your donation means we can continue to keep our classes and workshops active.
Donate in memory
Pay tribute to the life of a much-loved friend or relative by donating in their memory.
Make a major gift
Whether you would like to give personally or through a trust or foundation, get in touch.
Leave a legacy
By remembering EAC in your will, you can leave someone to turn to at a time in life when it's most needed.